It's telling that the phrase, "in these unprecedented times" already feels like a cliche. Living in a pandemic means facing constant uncertainty about the news, our children's school schedule, our own job status, and what all of it means about our ability to support our families.
At Noah, we partner with families every day to help them achieve financial goals. That doesn't stop while we all watch responses to coronavirus unfold. We recently released our internal "Household Finances Tracker," in partnership with technology firm Elucd, and we promised to keep you updated on what we're learning. This is what we've seen so far about how homeowners and renters are weathering the pandemic.
The Crisis Continues to Affect Jobs
Since our last post, more families have experienced job losses or cuts. Nearly half of respondents to our survey say their jobs have been negatively affected by the virus. The number of survey participants who say they lost their jobs has increased from 26% to just over 30% since our initial post. The number who have seen a cut in their hours or pay has dropped slightly, from 21% to 19.55%. This could mean that some of the people who initially had their hours or pay cut may now have lost their jobs.
Unfortunately, a $1,200 stimulus check isn't going to cover all the expenses people need to cover an employment gap (not to mention the millions of people who are still waiting to receive their check). Businesses in the financial industry have the opportunity to help our customers and communities by offering solid information, creative technological solutions, and as much assistance as possible so families can access the funds they need.
Race May Affect Worries About Paying Rent or Mortgage
The economic impact of the coronavirus pandemic is tough across the board. Even people fortunate enough to keep their jobs and work from home may be dealing with increased stress. The impact is worse, of course, if job instability leaves you worried about how to meet your monthly rent or mortgage payment.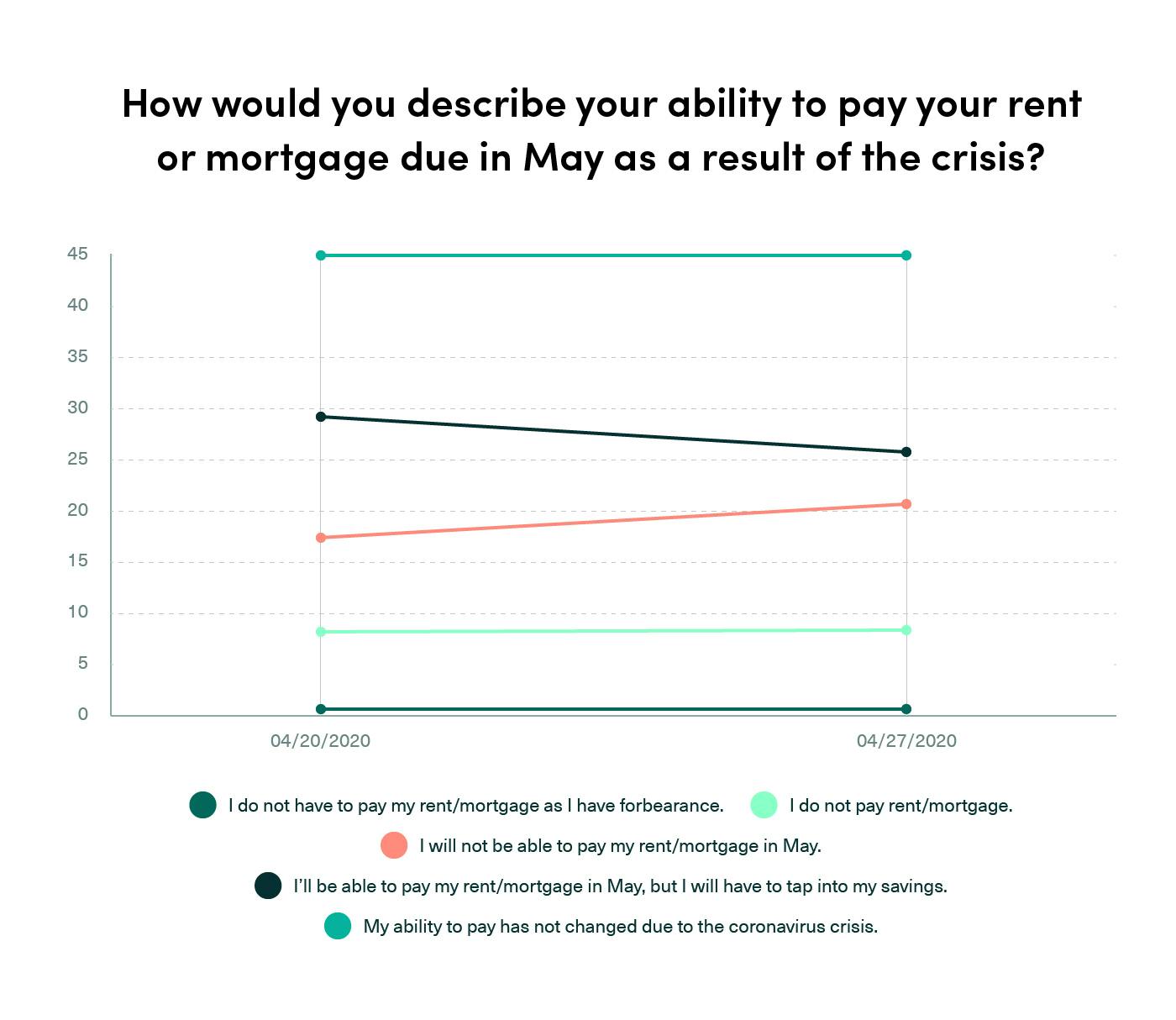 Even one week is enough time to show noticeable results. The percentage of people who said they won't be able to pay rent or mortgage in May grew from 17% to 20.5%. Meanwhile, the percentage who said they could make the payment by dipping into savings declined, from 29% to nearly 26%. Based on fairly steady figures for other responses, it feels reasonable to say that a large part of the shift is likely to be movement between these two categories. That is, people who thought they could meet their rent or mortgage with the help of savings realizing, over the course of a week, that this won't work out after all.
Black/African American (45%) respondents reported higher rates of inability to pay rent or mortgage than white (25%) and Hispanic/Latino (26%) respondents. COVID-19 doesn't discriminate by skin color, but social inequality and prejudice can still mean the pandemic takes a higher toll on some groups than others.
Renters Struggle More Than Homeowners
Although affluent renters and poor homeowners certainly exist, homeowners generally earn a significantly higher income than renters. So it's unsurprising that renters (25%) reported higher rates of inability to pay rent or mortgage in May than homeowners (9%). Renters are also much more likely to have lost their job or undergone schedule or salary cuts than homeowners (55.7% vs. 37.7%, respectively). Wealth inequality may play an important role in the strategies families use to budget.
Homeowners are continuing to slash food budgets and apply for mortgage forbearance programs to help make ends meet. The percentage of renters cutting the grocery budget actually declined from one week to the next, but the percentage tapping into their retirement fund or kid's college savings more than doubled. It's possible that grocery saving simply isn't enough to cover the gap, pushing renters to consider other options. Homeowners' relative job stability could make it much easier to pay the bills or even attempt to save an extra financial cushion in case of difficult times ahead.
What We All Can Do
We're all living through the same pandemic, but that doesn't mean it affects everyone the same way. Roughly half of the people who responded to our survey are going through major upheaval in the wake of job losses or cuts, struggling to meet essential expenses. Meanwhile, about 45% of survey respondents said their ability to pay their rent or mortgage hasn't been affected, and those numbers appear to be holding steady.
What this means is that whatever your experience is during the coronavirus pandemic, you'll find others going through a very different journey. It's more important than ever to recognize that while we don't all face the same challenges, we can take time to understand what our neighbors might be going through.
If you're on steady financial footing and want to help, here are some ideas to get started contributing to coronavirus relief. If you're struggling and need financial help, we've got resources for you, too. Coming together as a community (or staying apart as a community, as the case may be) and respecting concerns about health and economic hardship is important to work toward the best outcomes possible.
Managing a pandemic successfully takes time and everyone's commitment to care. We'll be back soon with more insights into the fundamental financial challenges families are navigating. Follow Noah and Elucd's data for yourself here, and learn more about what we're doing to help the families we partner with through our Homeowner Protection Program here.
Methodology
Elucd delivers surveys via geo-targeted online digital ads. Based on U.S. Census data, the sample is weighted to reflect the demographic and socioeconomic characteristics of the population being surveyed. Elucd surveys between 400-500 US residents, aged 18 and older, daily. This survey has a margin of error of +/- 4.9%.