For many people, a home is among their most significant assets. Yet, homeowners don't pay a lot of attention to their homeowner insurance policy until it's too late.
Know Your Insurance Policy
Home insurance policies are made to feel like a contingency plan—we purchase them for protection, while also hoping we will never need them. But increasingly inconsistent weather patterns, including devastating natural disasters across the country, have shown why these homeowner insurance policies are so crucial, and why homeowners need to pay attention to the specifics of their policies to make sure they are not under-insured. 
Better to Be Overinsured than Underinsured 
There have been numerous recent examples of under-insured homeowners struggling to rebuild. With Californians still recovering from the most recent wildfires, many are now ill-prepared to deal with future fires, especially as the state considers pausing its programs incentivizing homeowners to build more fire-resistant homes, amidst a $54 billion budget deficit. What's more, many experts are warning that homeowner insurance policies could increase. ValuePenguin predicts that homeowners' insurance prices will increase in 44 states, and the greatest increases in home insurance costs will be in California, Nebraska, Illinois, South Dakota, and Utah. With many unable to afford home projects right now due to COVID-19-related job loss or income loss, people are willing to put their personal safety at risk in order to maintain their financial security and try to survive with what little they have. 
To avoid finding yourself in this difficult situation, know your insurance policy and what's covered. This guide highlights questions you should be asking and things you should be considering as a homeowner. 
Dwelling Coverage and Replacement Value
No matter what your insurance policy advertises, your number one priority should always be the coverage of the home itself. Features such as personal possessions, living expenses, and liability should all be secondary to the primary home coverage. 
Dwelling coverage is based on the replacement value of your home, meaning the structural value of the house and the cost to rebuild it is not the actual value of your home. This estimate is included in a home appraisal report, and should be something you're aware of, so that you know the average replacement value for your home and can be aware whenever that number changes significantly. If you haven't had an appraisal done recently or at all, you can use per-square-foot replacement costs in your area to determine the ballpark rough replacement value. Local home builder associations can also often compute this value for you. 
Construction Costs – Watch For General Trends
Construction costs can have a large impact on how your insurance policy will cover you. It's worth keeping an eye on how those prices might be fluctuating and what it means for you. The National Association of Home Builders (NAHB) is a great source for this—their overviews are easy to read and give lots of useful information.
According to NAHB's Net Tightening Index, 6% of respondents for its report on acquisition, development and construction financing said that credit conditions for single-family construction were better in the first quarter of 2020 than a year prior, while 26% said conditions had worsened.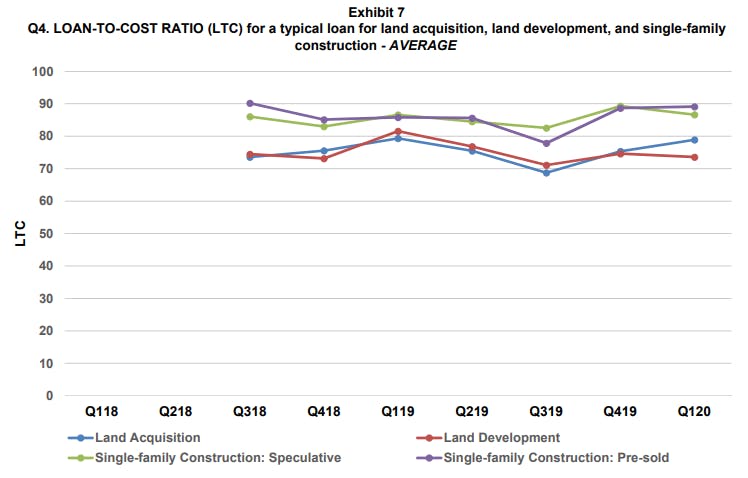 Meanwhile, the loan-to-cost ratio for single-family construction decreased slightly from Q4 2019 to Q1 2020 in terms of speculation but ended up slightly higher in its pre-sold value. Checking your coverage to understand how much of this average cost is covered can help prevent sticker shock if a rebuild is necessary. Homeowners might be surprised at how prices have changed since they bought their homes so it's always worth checking. 
In addition, in order to keep pace with inflation and construction costs in your region, it is recommended that the dwelling coverage be at least 10% greater than the replacement value of your home.
What Is Actually Covered
While this one might seem a bit obvious, it's important to understand what specifically is covered in your insurance policy—so read the fine print. Never assume that a standard policy covers all events as most policies exclude natural disasters or catastrophic events (such as flooding, earthquakes, and landslides). 
Those impacted by recent wildfires in California learned that many of their policies simply did not cover them. If you live in an area with a high risk for a particular natural disaster, such as earthquakes, tornadoes, or hurricanes, it is worth considering supplemental insurance. This could cost between $800 to $5,000 per year (the final cost is based on many factors), but the coverage you receive will be worth the protection. You may also consider extended or guaranteed replacement policies, which can help protect you against changes such as inflated construction costs. 
On the Path to Financial Freedom
It may be hard to wrap your head around these additional costs, especially during these difficult times when many of us are still mitigating meeting our monthly expenses and payments that have become a burden since the onset of the pandemic. At Noah, we're here for our customers on their homeownership journey: both the ups and the downs.  The more information you have about how to protect your largest asset, your home, the less financial stress you'll feel.  
If there's anything we can help answer about home equity sharing or how to protect your home, our Home Advisory team is always standing by.